Finalist Photographers

Estée Lauder Pink Ribbon Photo Award 2020
'RESILIENCE'
The 40 finalist photographs and their stories, selected by the Jury for the ninth edition of the

Estée Lauder Pink Ribbon Photo Award

.

Many thanks to those who participated with their talent and heart in this 8th edition, whether they are lfinalists or not.
We want yo thank also our partners and the Jury members who have accompanied us again this year with great generosity.
The votes for the Teva Audience Award were open from October 1st to October 15th 2020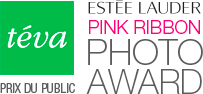 From October 30th to November 1st, our partner

Polka magazine

will publish on its Instagram account its selection of fifteen photos among our 2020 finalists!
Instagram Polka magazine
The three Jury Prizes as well as the

Teva

Audience Award will be announced in early November 2020.
In the context of the 2020 sanitary context and due to the postponement of Paris Photo, this announcement will be made in a virtual way.
Further details will be given to the finalists in October.
A formal Award cCremony with the winners, members of the Jury and our partners will be organized at a later date.
Marie-Sophie MEOWORNEVER

"Head high, pensive gaze.
To philosophize is also to appreciate what life offers us.
Acid tests, to become aware that we are like flowers...
Mortal not Immortal. To confront the gaze of its evocative shape, enjoy biting into this juicy fruit, its grimacing taste and thus to accept living just like a flower before becoming immortal.

By digesting its essence. Resilience is reinventing."
— Mélanie
Gabriela RUIZ-VIVANCO

The story of my self-portrait

It was a dark and haunting dream, like a premonition, that revealed the disease.
I was completely alone in the middle of the rough sea, adrift in a broken boat, dominated by almost total darkness. And a few days later, the diagnosis—"Cancer"—a simple word so difficult to assimilate.
From that moment on, a long process ensues: hospital, radiotherapy, chemotherapy, weight loss, hair loss, loneliness, and uncertainty... However, it allows a glimpse of the beauty of the simple things in life. Every moment is a drop of hope, and the good fortune of feeling loved and protected by the people around us is crucial to healing.
After a few years of remission, it is like a rebirth, even though life is not always easy, I intend to realize the dreams that await me, like photography, an art that allows me to express myself and connect with the world.
Linh DEL

Alexyanne was an obvious choice.
She has the freshness of her twenties; this youthful side associated with a career as a woman warrior.
Her first battle: that of becoming a mother. This journey that wears out and weakens a part of femininity. Then, by stimulating her body to help it welcome life, cancer broke out in her, more quickly, leaving this scar on this breast that she wanted more than any nurturer, damaging this curve of femininity, this symbol. A scar that reminds her every day of this struggle and the pain of an empty womb.
And Cindy, this artist who repairs evils. The one who tames scars and makes them beautiful.
The tattoo in itself almost always symbolizes a stage of life. I think that is the very definition of resilience from an artistic point of view.
When the marks of disease become a work of art. When art, light, and acceptance are born from these stigmas.
Élodie FOUGÈRE

"Resilience...
I don't know if I managed it.
It's not so easy to get past the "digression" of treatment and remission; I tend to leave combat mode behind and slip back into normal life. And rebuilding myself, literally, remains in my sights.
I manage to get better for myself and my loved ones. I feel my heart beating and blossoming again."
— Cécile
Cindy MILLET

"My love, my evidence, lean on me, let me carry your pains, your fears, your anxieties.
I am You, you are Me.
I love Us...
Cindy, you knew how to capture our essence."
—Yannick


"My friends,
Thank you for choosing me to shine a spotlight on your love as cancer struck Barbara for the third time. It was also my battle. It is yours, it is ours. Together, we carry the hope of a rebirth."
—Cindy

Yannick and Barbara asked me to take a photo of them while they were in the middle of the battle. I'm an amateur photographer and I have been affected by breast cancer myself. Our participation in the Estée Lauder Contest became self-evident to me when I read this sentence introducing the theme:"Taking strength from the headwinds, resilience colors life with hope and optimism." This is exactly what this couple represents: despite the storm, love gives colors to their life. They are hope. They are optimism.
Amandine DIÉVAL

Getting breast cancer when twenty-eight-years old... what an idea!... Not so incongruous after all.
This picture was taken after my partial mastectomy in July 2020.
Like children who are afraid of what is under their bed, I am afraid of this invisible monster, but it is well and truly there.
Then you grow up and forget about these creatures. It's my turn to grow up from this disease and to live by forgetting about the monsters under my bed.
My resilience? To sleep soundly despite my fears and doubts, and to trust in medicine.
Gilles DELACUVELLERIE

Camille, a few weeks before breast removal, wanted to be photographed in her simplest attire, accompanied by the doubt about the beauty offered by her body.
For me, the choice of a single light source and a simple pose adhered to her approach.
With her sure and calm gaze, through this photo Camille gives a particular meaning to the word resilience.
Katell LE NAVIOS

When my sister suggested that I take this picture, it was a no-brainer. We had just lost our grandmother to cancer.
When she in turn told us about her illness, it devastated us. We were imagining the worst, terror in the pit of our stomachs. But she responded to our anxiety with a smile, saying that she would fight, that we shouldn't worry. It was crazy, she was the one who reassured us!
When she understood that she was going to lose her hair, she didn't wait for it to fall out, she chose to cut it, serenely.
Yes, she suffered from the disease. Yes, she was afraid. Yes, her bruised body made her suffer... but she drew incredible strength from within herself to make the experience a force. The strength to fight, to continue to love each other. She is beautiful, but this battle made her even more beautiful and stronger than she had been.
She chose to tackle the disease head on, determined to heal, certain that she'd succeed. She impresses me! This is Anne-Ael, she is my little sister and I love her.
Natalia KOVACHEVSKI

"The art of navigating in torrents," staying the course despite the violence of the winds?
But some hurricanes carry away everything in their path...
Resilience is not a merit, but if it is an art, here is its message: one is disoriented when there is no possible way back, one can only move forward, calling for help, to find refuge on an island where one can rest.
Relieved and grateful to have survived drowning. Then feeling guilty for not living up to expectations, the fear of a relapse that haunts and being told that one is a fighter, that one should be happy to be in remission! Instead of living in depression.
Two years after the announcement of her cancer, Sandhya is still navigating and hoping.
She has overcome chemotherapy and radiotherapy but the journey seems endless. The fear of shipwreck is still there, no matter how old she is, it will last. She knows that the future will require more sacrifices. Time attenuates but does not erase, neither her experience nor her scars.
Angélique VIRGONE

"Oh, the pretty doll!" She's got everything going for her. Then, kaboom, cancer. The nursing team gets stuck in and glues her back together. Technical terms pass by, all ending in "therapy": chemo, immuno, radio... in a black-and-white "py." And then what? The dolls become pretty again, even when patched with all these surgical tapes in tops and tails.
In my cancer researcher role, Maëve's journey profoundly moved me. Then, Maëva's doll gaze entranced the photographer that I am in my spare time. If I had to give a definition to resilience, it would be Maëva's approach: knocking on a stranger's door, mine, so that I photograph and enhance her. So, I adorned the doll, applying my surgical tape, a waft of veil to underline the pretty green gaze of a repaired doll.

The encounter between a cancer researcher and photographer, and a patient, Maëva. So that Maëva can once again give meaning to my job as a researcher and so that I confirm to her with this photo that she is a pretty doll.
Hubert LAPINTE

"Our meeting took place at a time when together we were moving toward the same battle, fighting against this damn cancer.
At the time, Élodie was undergoing chemo treatment, and I was continuing this battle that has mattered to me since 2013. As a visual artist, I employ my experience, my life, and my fighting spirit to raise awareness and make things progress.
I am myself affected by serious pathologies and by an extraordinary life.
A friendship took shape, we shared, exchanged views. Our lives are different but full of experiences and struggles, always moving forward even in adversity!
We walk on the same wavelength, making the most of life no matter what happens. We cried, it's true, but we also laughed, with relief, happiness, complicity... Laughing at everything so as not to cry about anything.
Our friendship, a human, amicable, and fraternal adventure, is now a common front against this cancer."
— Lilie
Valerie LEGRAND

This photo represents the first day of my new life
. This life composed of the best aspects of my past: my wedding dress representing my husband's unconditional love; my support socks that hide my arms and which kept me warm during my seven operations before freedom was once again mine.
It is also my present: the photo was taken during the lockdown period for a challenge initiated by our beautiful "Kommunauté".
My new body, which I finally love as it is.
My vision of the very essence of life. The love represented by Venus: one is born of love and one is love.
It is the beginning of my future: it is the first time, but not the last, that I proudly expose my body; I find it beautiful and harmonious.
This photo made me aware of the forces buried within me, probably hidden under my former breasts.
I am only at the beginning of this new route: a gentle mix of my past scars and my great confidence in the future.
Anne-Ael MERDY

Marie—my model—and I met through Instagram.
We moved from the virtual to the real with almost disconcerting ease. We are soulmates, who set out together to meet resilience.
I was able to keep my breast, she was not. When I suggested she be my model for the contest, she accepted without hesitation; first for the experience, then for the symbolic nature of it. We are used to helping each other, accompanying each other.
She doesn't love herself, she only accepts herself through filters, artifices; she no longer recognizes herself. I merely gave her white flowers as props and I let her control her modesty, her embarrassment.
In the end she delicately caressed her chest, I captured this moment when she touched her scar, when she accepted this body that made her suffer. She hated her mastectomy; my sustained breast frightens me.
Through this photo, together, we were terminating our lease with cancer.
Sébastien AUBLANC

Sophie became aware of her cancer during the lockdown. She asked me if, as a professional photographer, I wanted to follow her journey.
This image is from the photo shoot done after she lost all her hair: there was crying, laughter, emotion.
Full of self-mockery, proud, provocative, Sophie faces this ordeal while remaining a woman.
An involuntary warrior, she defies, in an unequal fight, this disease that eats away at her. A blacksmith by trade, she here sculpts her weapons of hope.
This image shows a suspended moment, like a butterfly resting on the twig of time, fragile and ephemeral.
Julien CRESP

"In the darkness of the ordeal, in the face of the abyss of our weakness, a strength emerges from beyond ourselves and offers us this opportunity: to choose life!
The shock of cancer made me want to gather the best in me and around me, those I love, in order to climb this mountain of the disease together: roped one to the other until reaching the summit, until recovery!
I believe that union is strength, that communion transcends, that the other is a ferryman.
Like the rough patches necessary for the ascent, our flaws are fertile. Light springs forth from them.
In the photographer friend's lens, they are there, invisible. They pull the rope, a tension, a dance. Complicity. Gratitude. Hope. My forehead emblazoned with audacity: 'Down with heaving!' My adage: 'Up with a high heart.' Resilience.
A milliner, twenty years ago, I strived to create femininity focused on the head. Today, bare-headed, I confidently assert my femininity.
The mountain undresses me so I can refocus on the essential: living!"
—Marie-Clémence
Margot LESTIEN

"There had been the icy cold of the announcement that had thrown me into death. There is the fresh water in which I immerse myself and which reminds all my pores that I am alive.
There had been my river of tears. There are their grooves hollowed out in the corner of my eyes every time I laugh.
There had been my left breast cut out, sutured. There is my right breast that rises up out of the water.
There was my insensitive skin. There is my immersed scar that shivers.
There had been the rays of radiotherapy burning. There are those of the sun that warm my body.
There was, there is, and always will be the current, the current of water, of life, which sometimes drags me along and roughs me up, slips through my fingers and over me. But I also know how to split this current, how to pull it up, how to sail in it, how to immerse myself in it and, like the current, how to renew myself.
And from this strange baptism my irregular bust emerges with the same name as that of this river: the Fier (The "Proud")."
— Patricia
Géraldine GILLERON

To my soul sister.

"You feel my feelings, wants, and desires better than anyone else but I still have this need to share them with you. You have lived through suffering, pain, sometimes fear and sorrow, but you have never given up.
I will never be able to thank you in a way my heart would like to express it. The love of "our" mother and your strength of character were able to undo this evil that was gnawing at you; the eternal optimist that you are has won this difficult battle.
My warrior! I was born out of this ordeal and I can never be grateful enough to you for it.
I must go now and leave all of this behind "us."
So, climb on behind me and stick to who you have become. I don't know where we will go, but we are both going! On the road again…"
— Chloé
Sébastien DARGAUD

Determination!

Determination not to let oneself be discouraged; determination in the face of illness; determination to free oneself from limits; determination to accept oneself; determination not to hide; determination to "show oneself."
Isabelle called me to tell me about this photo contest, and to check whether I would like to participate in it with her.
It was the beginning of our collaboration. A mix of ideas and the story of this photo.
Her words illustrate this desire, born of a fighter: "Cancer, you took a part of femininity away from me, but you won't take away my woman's heart, nor my soul to live.v Never giving up is never giving up on yourself. So, I smile at this life force, my own resilience.
To stand on this road. No matter what, upright and moving forward. Thank you, life!"
Victoria MARIEZ

In this photo, ten days had passed since her mastectomy, yet she was radiant in her pink fur. Her ideas streamed out in front of the lens and our laughter filled the space: at that very moment she was not just surviving, she was living fully.
Her story is the story of thousands of other people, and where everyone has their own way of defending themselves in the face of life, hers was to reinvent herself and become the woman she is now. She has reclaimed her femininity and brought her new body to life with elegance and dignity: she gave herself the respect she deserved.
It is with optimism, tenacity, resilience, and courage that she fought before my eyes, with a strength that I have seen nowhere else. Every obstacle was turned into an opportunity, every trial into a lesson in humanity.
Alexandra is my rock, my pillar, my beacon, and above all my sister, who once again showed me what it is to be yourself, brooking no compromise.
Manuella AUBIN

«"It's chaos in my head.
A multitude of things are jostling each other. It's the traffic jam at the highway exit.
Nothing seems to move forward or, at best, in dribs and drabs.
Precisely this drop by drop... It resounds like a racket.
I am carefully attached for a few hours to this poison that is now flowing inside me.
It terrifies me, and yet, as strange as it may seem, I love it deeply.
This paradox is a real howl inside me. Can you hear it?
To get up, I must first fall to the ground.
And then I will get up again."—Carole
__
I have been accompanying Carole since May 17, 2019.
Both photographers, we wanted to put our passion into practice to create a photographic report, thereby raising awareness of the repercussions—of all kinds—inflicted by breast cancer.
This photo, taken during one of her many chemo treatments, precisely embodies the acceptance and surpassing of oneself, the scream sometimes releasing pain and anger.
Stéphanie DI DOMÉNICO

I've accompanied Stéphanie by photographing her during her various appointments throughout her illness.
Throughout this journey, I have admired her resilience in the face of the disease. Being at her side provided me with a beautiful life lesson. We took many photos together. I remember this one, taken one day during radiotherapy. Stéphanie was resplendent, strong, sublime. Fully on the way to her resilience!
The play of light on her body inspired me enormously. It is a stolen moment, of the kind that I like to capture, full of power, as shown by her gaze.
Ema MARTINS

Art as therapy

How long have you been fighting this battle? The years have passed and you are here to tell the story.
The disease has struck more than once, leaving you no respite. And, faced with it, you have come out the other side.
Your desire to live has led you to art, art as therapy. A multiple art, a communicative art. A new Line was born, more fulfilled.
Today, what is your message? "Fight, enjoy life, go for it."
Julian ALONSO

September 2016

Thirty-year-old Julie was suffering from breast cancer when she reencountered her former classmate Julian.
She wanted to photograph this period of her life "so she wouldn't forget." He put people in pictures and words "to understand them better."

Blind trust gave rise to a photographic series of images of Julie and her inner self. To create the series Julian removed all visual context and used a light symbolizing the duality of Julie's existence, vacillating between hope for life and the disease that gnaws at her.

This photograph, depicting Julie and two ghostly children in motion, illustrates her visceral desire to once again "hear a newborn's first cry," even as her future was being written in stops and starts.

Three years later, between two health checks that had become routine, Julie's second child, Rose, was born.
Isabelle MERTENS

"Acting tough to see my naked skull.
John shaves the back of my head.
Hair falls.
My face doesn't change in the mirror.
My eyes sparkle. It's a game.
Something you don't do.
It's also a double or nothing.
Beautiful or ugly?
Once past the surprise, I feel a certain strength at no longer having hair on my head.
It's as if the stripping away brings me strength, softness, and femininity.
Am I naked?
Or, on the contrary, am I less touchable, less attackable, less easily affected?

Does this naked skull make me this woman of humanity?
This descendent of billions of years?

For sure, I feel the force of humanity when my skull appears.
The first Men. The first Women. I am the fruit of this lineage.

Privileged stripping away.v Stripping away of humanity.

Thank you, life, for this experience that I would never have dared and which does me good.
I feel a link.
So connected."
— Déborah
Vijay & Vanessa MOSELLE

"Life is not always tender, it is even intimately associated with suffering. The human soul is sensitive, delicate. In case of frighteningly difficult and painful ordeals, it can remain deeply bruised, damaged, haunted, traumatized.
However, this does not remain a fatality.
For me, the wounded bird with the damaged wing has relearned to fly. As I felt myself dying on my old rusty bed, a tremendous gleam of hope sprang up; my frail hand clung on and overcame darkness, despair, distress, and gaping inner wounds.
We are all capable of much more than we think. We all possess, deep within ourselves, unsuspected, almost miraculous forces enabling us to rise up and be reborn.
To know how to free ourselves from a poisonous past; to be able to bounce back when we think the war is lost... is to grow up, is to be resilient. Resilience, this ability to overcome the most painful shocks, lies dormant in each one of us. I am the living proof of it."
— Sarah B.

Clinging on with strength, letting the light of hope enter, dressing in gentleness to overcome illness, this is the woman of today who has fought, who smiles again at life. More beautiful on the inside, stronger on the outside. She has conquered!
Sylvie DURAND

It is my birthday on this day of March,
Too happy to embrace life to the fullest,
Even if it doesn't spare me, bitch that it is!
I want to remain in this world for a long time to come.

Fifty-nine years old but still the same,
A little wise, often crazy, always in love,
With the pleasures of life, all its problems
Which forge who I am without me losing my sense of humor.

I hope I don't shock overly sensitive souls
By showing what you cannot endure seeing,
This now invisible "foreheart,"
Eviscerated by a line that henceforth bars it.

Don't think of it as provocation, but as courage.
To show you what I really am
A woman accepting by this striptease
What she has become in three years.

Eyes toward the sky, which I don't want to reach,
My heart naked and without taboo I unveil to you
This new lifeline and not the least of them,
This distinct scar when I'm... naked.

Self-portrait (photo and text 05/03/2020 – My resilience: to show myself the way I am)
Yéri Bérénice OUÉDRAOGO

Grandmother, do you recall this moment?
At this very instant I became an adult. Until then I'd felt like I was five and a half years old, the age I was when we were separated.
Then I dared to talk to you about the body hidden beneath your colorful pagnes.
Mom translated the theme of my project into the Lobi dialect.
I wanted to see, touch, feel, and share with you this past ordeal; four years ago and far away from me.
Your reaction tallied with what you exude, you, the mother of eight children, upright and proud, with a frank look in your eyes.
You took off your top and presented yourself to me without a word. A heavy silence but shouting out everything we couldn't say to each other through the barrage of language. You impressed me and at the same time I wanted to become your protective veil.
I put my hand not on this breast that is no longer there but on the scar that replaces it.
You didn't move and offered me your soul. You understood the importance of my request.
Minafré (I love you).
Ellen TEURLINGS

Her gaze says it all. My mother's. Eighty-five years of life. Four breast cancers. Forty years of treatments.
I was a teenager when the word "cancer" entered our family. A young adult when her body was mutilated afresh. A mom when once again a part of her femininity vanished.
Her motto is to move forward, always forward! Society grants us the right to live only if we are efficient, beautiful, strong, winners, without flaws, without any "baggage," and above all without illness or disease. We suffer the dictatorship of normality. My mother never accepted to live under a dictatorship. She shows us that it is time to accept our fragilities and weaknesses—and those of other people as well. We have to tame them if we can't erase them. Taking this path makes us stronger, freer, truer, more ourselves, more human.
Yes, life can be beautiful! It's not beautiful because of something as ephemeral as its appearance; it's beautiful for what it is and what we do with it! And my mother has!
Elizabet CASTILLO

Close ties

The two most important women in my life, and those I love the most: my mother on the left, my aunt on the right.
This moment was very personal and intimate. I was visiting my family in Cuba, as I do every year. I took this picture a few hours before I flew back to Europe. I was saying goodbye, hoping it wouldn't be forever. They have been fighting cancer for as long as I can remember. My mother is a survivor. My aunt is still fighting, she no longer has breasts or a womb. She was losing her hair again. But she never lost her kindness or her hope.

I was inspired by the afternoon light coming through the window in a very dramatic way. I used light and composition to isolate the subjects in their environment and bring the viewer into the scene so that they could connect with the characters in this very personal event.
Laurence REBOULLET

Carole, my friend, my sister,

Those lumps in your chest are also in my throat.
I am speechless.
You lived each day without certainty of the next. The photo session, it carried us along and allowed us to enjoy the moment.
Everything I wanted to tell you, I captured in this picture.
Black and white was an obvious way to convey the emotion of this intimate and singular moment.
________
Laurence,

It took me a while to make this photo session my own, adopting calculated poses and emotions.
You let me navigate the room, in my gestures, feelings, and wounds.
I used your lens to reveal what I was hiding and to exit from this chrysalis.
By slipping into this camisole, I experienced the passage from the woman I was and am, to the woman I will be.
Nina PARISI

The other night, I met eight women:
Anissa, Angélique, Christel, Jeanne, Estelle, Charlotte, Candice, and Iris.

"Look at us, we danced under the night!
We were born of those who took it away.
We are the resistance fighters.
For you we will not tremble; for you we will dance every night.
For you we will remain clinging to the future.
The relentless day is rising, so we will not leave you, we will reinvent everything, redraw everything, imagine everything.
We are the impulse of a wave and you are the high tide."

The other night, I encountered my strength, my resilience.

For my great-grandmother, who also must have met these women somewhere in order to find courage.
Florine MULLER

What is resilience?
Is it accepting the disease and making it one's own, or is it rejecting it and going to war? Is it the woman we admire because "it doesn't show" or the woman who walks around with a bald head and a smile on her face? Is it always remaining hopeful or is it also accepting death?
Isn't it too often a state granted by those around us, a word that is sometimes moralistic and a source of anguish for those who are not moralistic enough in the eyes of the world?
What if resilience was nothing other than that random smile? A heart that is active, a gaze that still marvels.
Nothing other than life in its purest essence, whether it lasts for years, months, days, or minutes.
Life is resilience. This smile is its emblem.

I am a medical student. Céline is the mother of three children. This photo, taken in 2019, is from the Artemis project, a breast cancer prevention campaign that could easily have been called "Resilience."
Gwen DUMOULIN

Silence.
The time of consciousness.
The sky assents,
Shadows appear.
Indelible on this weakened body,
This body bruised by disease.
Silence.
The time of rebirth.

For Séverine, symbol of resilience and benevolence. I thank her for entrusting me with her femininity to say to the world "Don't look for strength elsewhere, it is within you."
Gilles AUTEROCHE

Christelle closes her eyes, serene, at peace.
She has twice encountered cancer. Courageous, she wanted to keep her breast, six years after her first operation. Resilient, she overcame, not without pain, this new life ordeal. In her head, she had already won; in her body, she went forward with a will to rebuild.
I was inspired by kintsugi ("golden joinery"), the Japanese art of repairing broken crockery, highlighting the scars with gold powder, which increases their value.
By her pose, Christelle showed me her victory against this second cancer in a final battle. Her bruised body is all the more beautiful as her soul seems to radiate energy and serenity.
Nathalie BARDOU

"Bright red on the nails and lips and a femininity at last rediscovered.
A pair of healthy breasts in a present whose moment I savor.
A white gift with which to write the continuation of a story whose end I don't know."
— Marie-Pierre
Perrine BUTZ

Alice, 33, and Amandine, 36, met "through" the breast cancer they both suffered from during their pregnancy.
Their story is first and foremost a story of friendship, femininity, and self-acceptance. Rediscovering themselves as women minus one breast, reconnecting with their inner strength. Accepting one's body with its scars. A need to embrace life, to exist. Their story is that of having lost a breast and of having given life. Of becoming mothers of a daughter who will become a woman.
Alice is an old friend. I took photos of her during her pregnancy, just after the news of her mastectomy, then a second time after the operation, just before giving birth.
This photo session allowed her to reconnect with her body's beauty, no matter how her body is. She wanted to offer the same thing to her friend Amandine, who had just given birth to her daughter after a recurrence of the disease, so that she could see herself as beautiful, in all simplicity. This photo was taken at the end of the shoot.
Pauline THÉON

It was necessary to go on without you
Letting you go with him
He who had taken you with so many others
Clenching teeth
Fighting against the current
Against winds and tides
To surpass oneself
To keep one's head above water
To become this stronger woman
Just like you
For your strugglesv And for love.

I met Inès two years ago. And she quickly made total sense to me. She is like the sister I never had and she always accepts to pose and thus help me transform my feelings into images. She knows a lot about my life, my happiness, my sorrows, and also the emptiness that sometimes surrounds me. I wanted to thank her for this moment, this photo in which she was able to convey through her posture and her gaze what I was feeling, what I wanted to say to my grandmother who is far away now: "I will not let go. I would never let go. For you. For your love."
Vanessa AESCHBACH

Warrior, it is now my turn (or Inevitable)

Solid like a stone giant. Made of crystal rock.
A small hollow in my chest. Just for my skin.
My murmurs. My grace. My vanity.
A refuge as secret as the depths of the forgotten world.
The foamy walls. Flowing. Alive. To be licked.
Like the wounds that now run through my flesh. Soon dry.

Vermilion color honors. Swollen. Stirred.
Ploughed earth. Patiently. Lovingly.
To the Holy Fruit. Savior. Blower: from lead to gold.
Arnaud GRAS

"You came to shatter all my projects like a cataclysm. It wasn't just the body that struggled. It was necessary to revisit everything, to rethink, to adjust, to elaborate.
To finally achieve what I had always hoped for.
Love, this rampart."
— Agnès
Sophie LOUSTAU

After acceptance, freedom.

How do you accept the unthinkable and bounce back with force?
Marie-Josée, seventy-four years old, faces her cancer with elegance and humor.
But sometimes, even a strong will and an optimistic spirit like hers are not enough. It's good to then to rely on someone close. The love of her family helps her to stand up straight and believe in a better future.
By transforming this harsh ordeal into a rage for life, often evils fly away elsewhere.
---